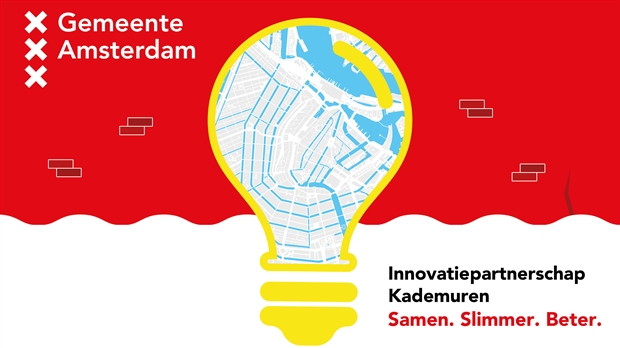 Online event, award of innovative quay wall renovation
The Municipality of Amsterdam aims to work with the market to develop new and smart solutions to replace the city's vulnerable quay walls. Three consortiums have been selected to start an innovation partnership: G-Kracht, Kade 2.020 and Koningsgracht. The award contracts with these consortiums will be signed on Wednesday 13 May in the presence of Alderwoman Sharon Dijksma. This will take place during an online event from 4.00 p.m. until 5.00 p.m. that interested parties can follow on amsterdam.nl/kademuren.
The parties will outline their innovation solutions during the event, the solution objectives being to renovate the quay walls, halve the inconvenience and lead time, and reduce the costs compared with traditional methods. It must also be possible to use the solutions everywhere in Amsterdam's city centre.
Innovation partnership
The consortiums form part of a new tender procedure that focuses on the development and large-scale procurement of innovations from market parties. This innovation partnership provides an abundance of space for market parties to offer more radical innovations and as yet unproven solutions for complex problems. The partnership envisages a long-term, open collaboration between the market and government.
Research and development phase
The winning parties will work out their concepts into fully developed and validated solutions in the coming months. The developed solutions will be introduced in three city centre pilot projects in 2021. If these pilots are successful, a framework agreement of between 4 and 8 years will be signed with each of the three contracted market parties. The methods will then be used for a substantial proportion of all annual quay wall replacements. The other quay wall replacements will be carried out in the traditional way within another contract.
The three consortiums
A total of sixteen parties participated in the tender procedure. Three were selected from this:
The G-Kracht consortium comprises Gebr. De Koning BV, Van Gelder BV and Giken Europe BV.
The Kade 2.020 consortium comprises CMD Civiele Werken, Sweco Nederland BV, BV Bouwadviesbureau Strackee and Oosterhof Holman Beton- en Waterbouw BV.
The Koningsgracht consortium comprises BAM Infra BV and RoyalHaskoning DHV.
Vulnerable quays
The Municipality of Amsterdam owns over 600 kilometres of quay walls, 205 kilometres of which are quay wall structures built on foundations. There are many vulnerable quays, often over a hundred years old, particularly in the busy, historic city centre. The quay walls are at the end of their lifespan and the quays are subject to heavier stresses than those for which they were originally designed. Hence the reason for the renovation. As a large number of kilometres are involved, this demands smart, sustainable and efficient solutions.
Source: https://www.amsterdam.nl/ingenieursbureau/nieuws/nieuwsberichten/nieuws/2020-jan-jun/online-bijeenkomst-gunning-innovatieve/